Tate Young
Attorney at Law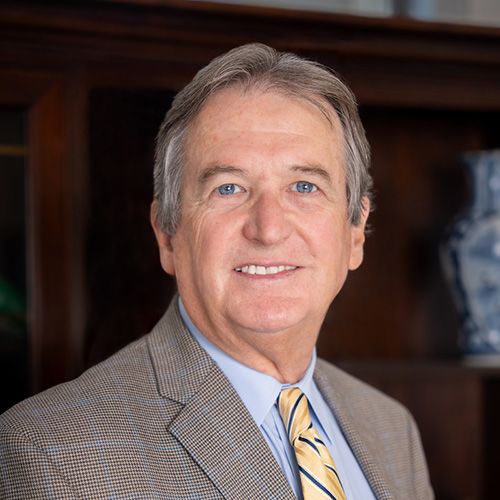 Mr. Young has an "AV Preeminent" rating from Martindale Hubbell, the highest rating an attorney can achieve from that organization. He is licensed to practice in Texas and Louisiana. He serves as a business lawyer and employment lawyer throughout the Houston area, including representing clients in a wide variety of business litigation matters.
Mr. Young has conducted seminars for and worked with human resources departments in companies to educate them on state and federal employment laws. Mr. Young represents individuals and companies, as plaintiffs and defendants in commercial litigation and employment matters of all kinds.
AV Preeminent Rated by Martindale-Hubbell
Please watch the video to learn more.
Tate Young Has Practiced Law for 38 Years and Has Tried Cases in State and Federal Courts.
He started his career as in-house counsel with a major oil company practicing anti-trust and commercial litigation, then worked in two Houston law firms and became partner in the latter. In 1992, he started his own firm serving as a business lawyer with a focus on business litigation in Houston, TX. He also has extensive experience as a Houston employment lawyer. Mr. Young is respected for having the ability to accurately evaluate and assess a legal matter prior to a lawsuit being filed, including analysis of both liability and damages issues.
Mr. Young has represented management and employees, which enables him to many times anticipate the opposing party's next move, which is a critical component to successful business litigation in the Houston, TX area. It is also an important attribute when seeking an employment lawyer. Mr. Young's years of practice have enabled him to ascertain, and focus, on the germane factual and legal issues in a case. He develops pretrial and trial strategies, always being mindful of the client's goals.
Always maneuvering towards trial, he will, if appropriate, negotiate a settlement. Mr. Young prides himself as a business lawyer on solving legal disputes and invoking creative strategies. Other attorneys, and even a Texas appellate judge, have entrusted their personal legal disputes to him.
Mr. Young also negotiates all types of contracts, particularly employment agreements containing non-compete and nondisclosure provisions, and advises clients on "golden parachute" and severance packages.
Mr. Young's practice is primarily concentrated in two primary areas. He has vast experience in commercial litigation including business torts, contracts, consumer protection, real estate, construction, and trade secret law. He also focuses on employment law including covenants not to compete, non-disclosure agreements, severance agreements, wrongful termination, and discrimination.
His clientele runs the gamut from international, and national, clients to locally-based businesses and individuals with one-of-a-kind needs. Representative clients are in real estate development and management, oil and gas companies, construction, manufacturing, software/website companies, services industry, and attorneys, as well as individuals with employment-related claims of discrimination, sexual harassment, wrongful termination, and other labor-related matters.
Mr. Young has handled some interesting and noteworthy cases over the years and has been featured in The Houston Chronicle, on television and radio. If you have a legal matter involving business litigation or need an employment lawyer in the Houston, Texas area, please contact attorney Tate Young today for assistance.
As your attorney, your goals are my top priority.
Education
Juris Doctor Degree (JD), Tulane University School of Law

Bachelor of Arts Degree (BA), Wake Forest University
Admitted to Practice
State Courts of Texas

All State Courts of Louisiana

United States Supreme Court

United States Court of Appeals for the Fifth Circuit

United States District Court for the Southern District of Texas

United States District Court for the Eastern District of Texas

United States District Court for the Western District of Texas

United States Court of Appeals for Federal Circuit (Trademark & Patent)

United States District Court for the Eastern District of Louisiana
Professional Memberships
Texas Bar Association

Louisiana Bar Association

Houston Bar Association - Labor & Employment Section Member
Honors and Publications
"AV Preeminent" rating in Martindale Hubbell (highest rating possible in that publication)

Louisiana Coroner's Handbook – Researcher, author, co-editor.

Who's Who of North American Lawyers (2019)

Super Lawyers (2020 and 2021)